Rugby Blitz!
Rugby Blitz!
7 February 2018 (by springfieldps)
P4 and P5 Rugby day out.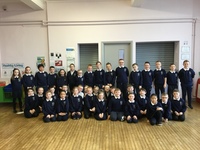 Well done to all of the P4 and P5 children who took part in the rugby blitz along with other schools yesterday at Shaws Bridge. The children all played very well and showed great sportsmanship. The children won their games and made Springfield proud!